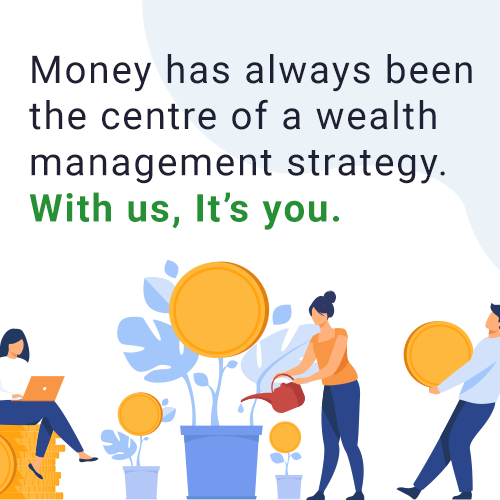 Statutory Disclosure on Investor Complaint Status
Investment decisions are always evaluated on their risk, return and reward potential. Borrowing from our name, we believe in an holistic approach to your finances. By understanding your dreams and desires, we will walk along with you, on your goal-oriented journey.
We are here to work with you as your personal CFO. Our advisors will help devise custom-made plans, consolidate your every investment, help you unearth hidden opportunities, proactively execute and monitor plans, and most importantly, address your financial concerns so that you feel more confident throughout your investment journey.
What We Offer
We believe in protecting and growing our client's wealth instead of just chasing returns. Keeping this in mind, each of our offerings strives to bring simplicity and clarity to your financial matters, and this will, in turn, enable you to take sound decisions for your financial wellbeing.
---
We bring in this rigour before making any financial decision, we are rigorous in understanding every detail that defines you. We believe this helps us plan, implement, monitor, and manage your wealth like your personal CFO. The key here is to focus on holistic planning where we monitor changes so that your investments and your goals are always aligned.

How does your personal CFO do this? Click below to take a look at our five-step approach towards smart financial planning
Happiness Index
When we look out at the horizon, what do you think makes our journey worthwhile? It's realising how lucky we feel to have great clients. Thus, we felt that the best way to showcase what we've done right is in letting the world hear their stories.
---
Knowledge and trust are two critical elements for the development of one's investment. For the last six years, Circle Wealth has managed both. Not only has CWA provided insight into my personal wealth, but also advice in the field of insurance and asset-care. Associating with Circle Wealth has ensured a sound and stable future for myself and my family.

I've known Mukul for several years and have found him to be a level-headed as well as a mature professional who puts the clients' needs first, an attribute which helps build lasting relationships. High on integrity and sound on financial products, Mukul adds great value with his advice and suggestions.

In the six years that I've known Mukul, he's always been objective, reliable and consistent with his advice. Moreover, he is a great bouncing-board for ideas and initiatives. He has a strong pulse, is well informed, and has a calming influence during volatile phases of the financial market.

As my personal CFOs, Circle Wealth has met and far surpassed my expecations. They took their time in getting to know me, my needs, my goals and my comfort level. Their approach has definitely helped me translation into a new phase of my life as a single-parent.

We have had a decade-long association with Circle Wealth, and we are incredibly thankful. With time, this relationship has grown exponentially where our trust in their services is absolute.

Until we met Mukul, we have no savings despite being a double-income household. But his pragmatism and careful financial goal alignment planning helped guide us make better decision, and today, we are confident that with him, our money is safe.
Our Team
The foundation to a strong relationship is in knowing each other well. A sneak peek into the lives of our team who will be right beside you throughout your investment journey and ensure that you'll never walk alone.